Way back at the beginning of my trip I had an idea of maybe ending the trip by flying down to Indonesia and learning to surf there. Many months later, this is exactly what I decided to do. There are three main reasons for this decision: i. I've never been in the southern hemisphere and unless I dropped down to Indonesia I still would't have on this trip which felt wrong, ii. this trip hasn't exactly been a walk in the park and a few weeks of island life in the sun sounded like the perfect thing before returning home, and iii. I've always really wanted to learn how to surf. After a whole lot of research it seemed like the best way to do this was through a surf camp, staying somewhere for 2 weeks and devoting all of your time to surfing. It was also a bit more pricey but with the support of my wonderful parents and the knowledge that I'd likely not have this opportunity again, I went for it. I booked it at the end of May and definitely had some doubts during June if it was the right call. It 100% was. I had the absolute best time at the camp, and it was also the perfect way to end my trip. Staying in one place for 2 weeks with the same people gave me the time and space to begin to process going home. Being able to completely focus on one thing was amazing, it felt so good to devote myself fully to something. Getting to surf twice a day, everyday was just wonderful. The feeling of being out on the water, surrounded by new friends, in the Indonesian sun was pretty unbeatable.
Camp life
Nestled at the end of the village of Gerupuk, the camp was a beautiful space with a big open downstairs area to chill in, with a direct line of sight down to the sea. It had comfy cushions upstairs and our dorm rooms were spacious and without bunks. We had two surf sessions a day, each two hours long. We had theory lessons on everything from how to pop-up and do turns, how to navigate a line-up, and the science behind waves. We had yoga classes and could use the yoga shala whenever we wanted. All of our meals were provided and they were always nourishing and delicious. The other guests were all just great. A big mix of nationalities and ages and backgrounds; some travellers, some on holiday, some digital nomads. It was such a fun gang and we had a lot of laughs together. It was funny to see how quickly I learnt the surf lingo and soon enough I could join in with all of the surf conversations, and there were a lot unsurprisingly!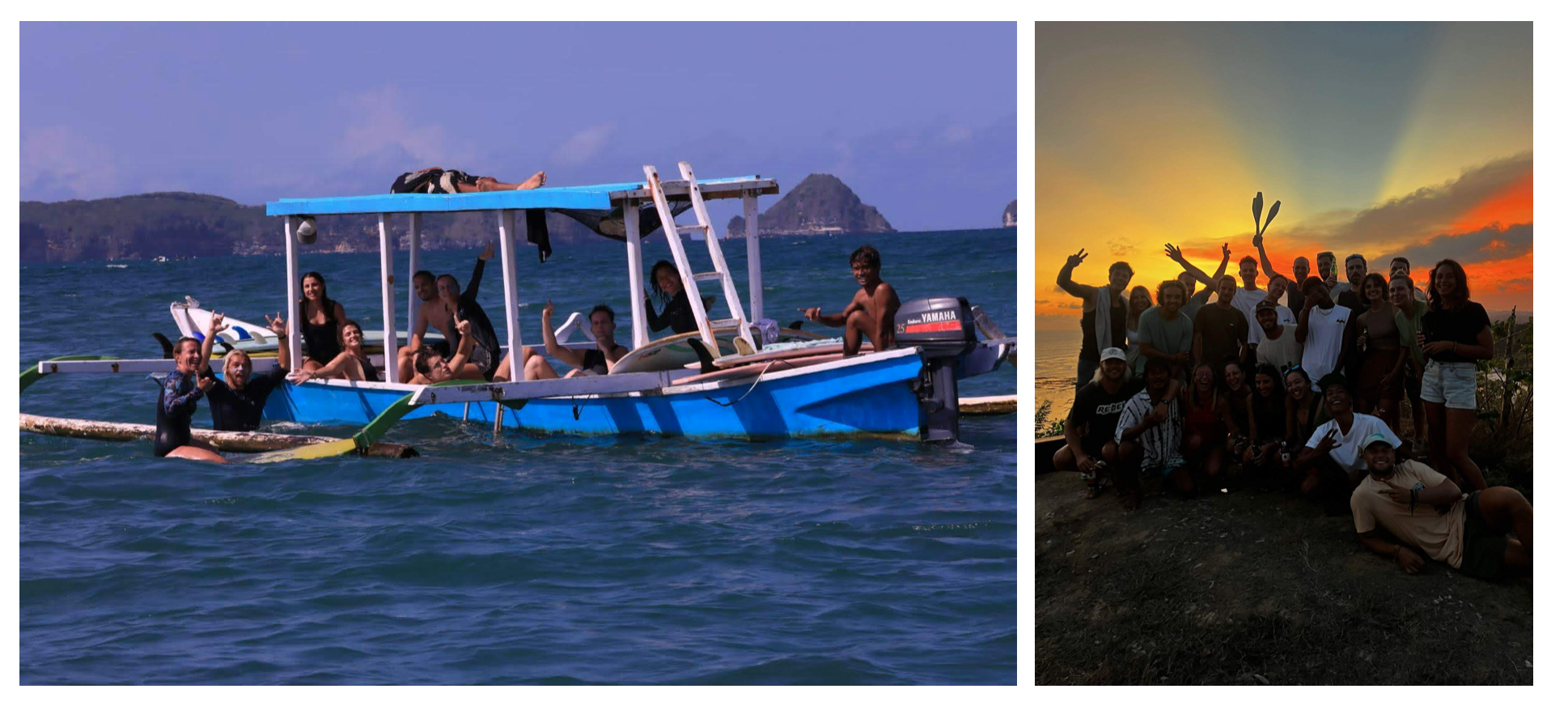 The surf
I enjoyed every single surf session, even the ones in the unseasonal rain at the beginning of our first week where my eyes became swollen from the salt and wind and spray. Gerupuk bay has several different surf spots and we'd go to different ones depending on the conditions. Our little beginners group of 6 - 8 people would go out on the boat with our coach, Brad from Yorkshire, and the local guys, Swell, O'Cil and Surande. They entertained us hugely, always messing around or shouting something in Sasak (the local language) at each other. All of the surf spots were reef breaks so the boat would take us out to these, much easier than beach breaks as there was no paddling through all of the waves (unless you got caught in the impact zone which I often did…). We'd all sit floating in the calm water besides the break, going out to the coaches one by one. They would position us in the right place for the waves and give us a push if we needed it, to make sure we caught the wave. It was quite a funny process at first, I didn't imagine I'd be pushed onto the waves, but it worked well and meant I caught basically every wave I went for. I enjoyed every aspect of the surfs. Sitting on my board watching the others go, paddling back with the sun warming me, chatting to the local guys whilst waiting for a wave, and, of course, surfing the wave. The latter is a feeling that's completely addictive and it meant no matter how tired my arms were, or how beaten up I felt from a wipeout, I would always paddle back out for another wave, another chance of having that feeling. It sounds silly perhaps, but there is something so special about surfing because you are so connected to nature whilst doing it. I'm sure skateboarding is fun, but surfing down a wave is surely infinitely better. In my two weeks I did not become a great surfer. I wouldn't even say I became an average surfer. I lack any natural ability, but I am now able to catch my own waves (sometimes) and stand up. I often fall off. I almost always get stuck in the whitewash, unable to turn the board back to the top of the wave quick enough. It's okay to be bad at something. It's actually quite fun! I will definitely continue to surf, because I enjoy the entire process and I also really enjoy trying to improve.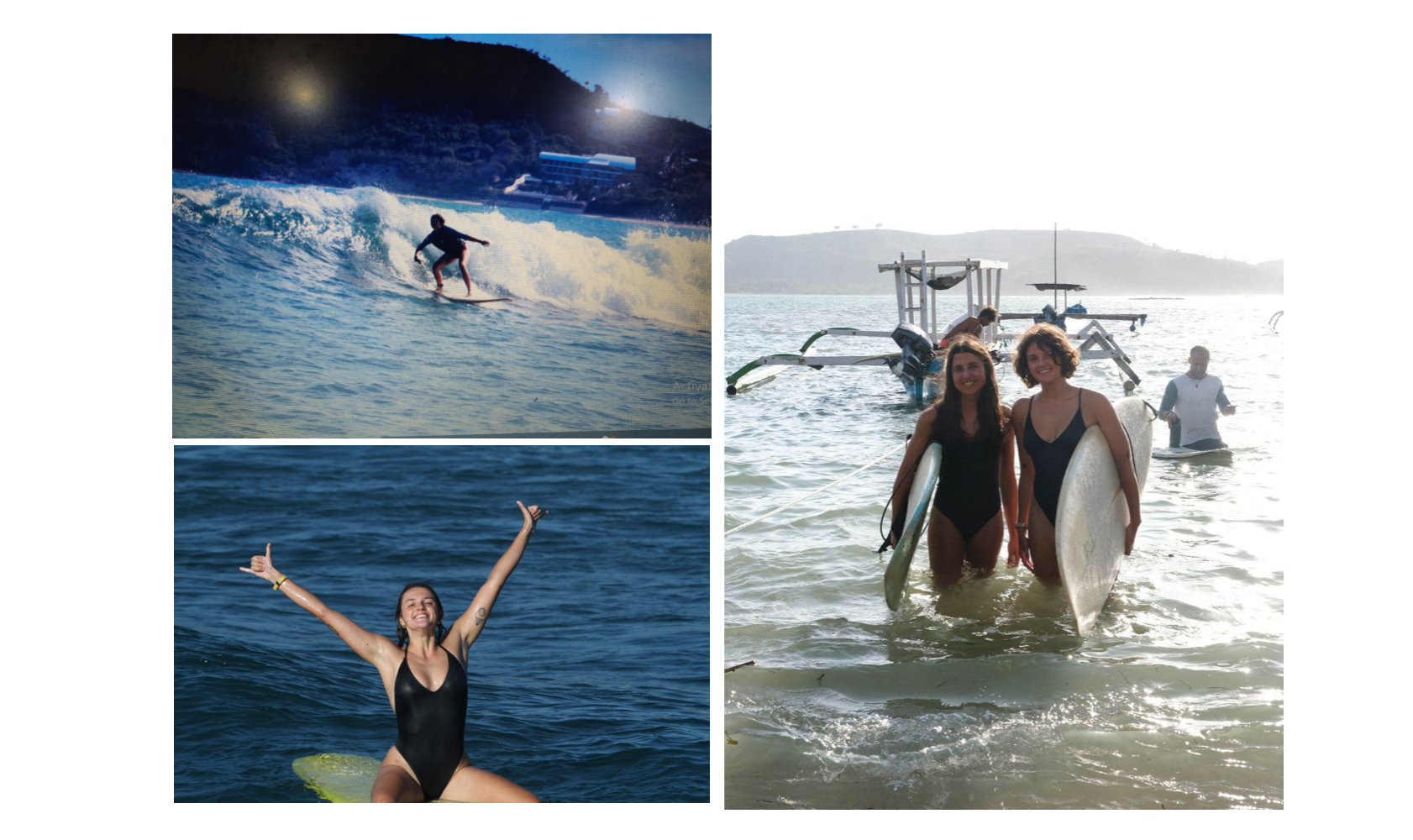 Whilst I enjoyed every single surf, not every single surf enjoyed me. I had a pretty big crash very early on where a woman's board somehow went between my legs whilst I was stood up, smashing into my right inner thigh. Below is a beautiful collage of the bruise that caused. I got another bad bruise on my arm from a man's board running into me. I got a big bruise on my left thigh from falling onto my own fin. I got hit on the head by one guy's board and the crash looked so bad to people watching that the local guys treated me like a delicate flower for the rest of the session, not letting me go for any big waves and constantly asking if I was okay. There was a big swell at the end of the first week and we battled some big waves even at our beginner spots, where I was washing machined more times than I can count. Bruises formed on both my hips from where they sat on the board, and my ribs became tender from the same. But I survived! I only took one session off, watching from the boat, when my arms had become so tired I couldn't even pop-up.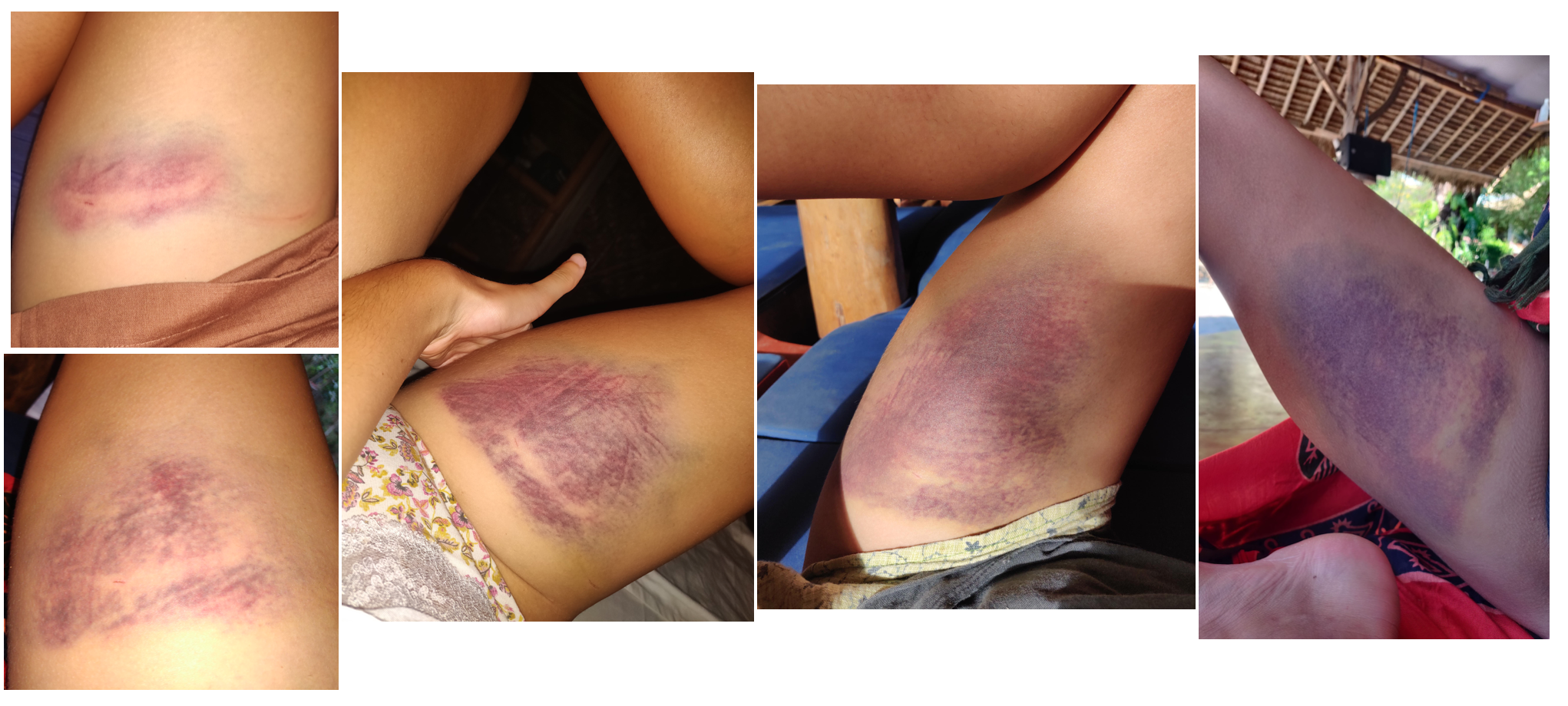 A love triangle
Perhaps another reason I loved every surf session was the fact that two of the rather lovely local guys who positioned and pushed us onto the waves had a bit of a thing for me. Luckily they were very close friends so it was all in good spirit rather than anything too serious, although I do think one of them got a bit jealous at one point and punished me by leaving me to be wiped out by a huge wave… He came back around though and I thoroughly enjoyed the attention from both if I'm honest! It also provided fun gossip for our evening run downs in the female dorm. Clearly the strange zinc sunscreen look on my nose and cheeks works for me.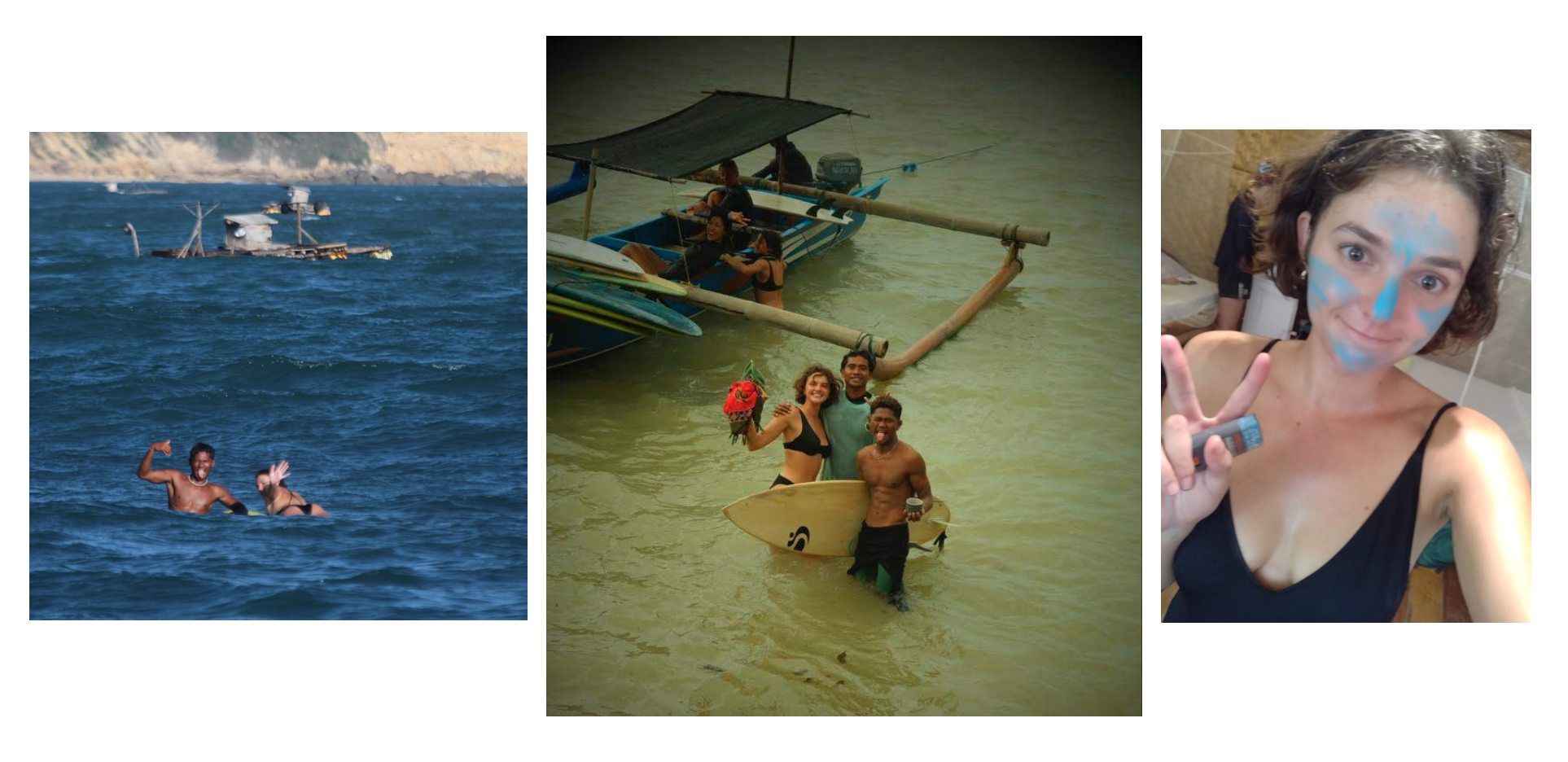 The final experience
The surf camp was the best way to spend my final two weeks travelling. As the friends I voicenoted or called pointed out, I sounded unbelievably happy and that's because I was. I was the happiest I've ever been. Not just because of the surfing and the sun and the wonderful pace of life there, but because I started to process what the past 14 months had been for me. I indulged this reflection by sitting on the beach alone often, with a cup of tea and my headphones, watching the sea and the trees and the boats float past. I cried thinking about going home. I danced thinking about seeing my friends and family. I ran in the wind, hunting for shells and splashing through the shallow waters. And then I would return to the camp and have the luxury of socialising with people I really liked. It was truly wonderful. Thank you to everyone at the camp that made it so bloody special!