Mount Rinjani is the second highest volcano in Indonesia, located on Lombok. The summit is 3,726m and it sits in between two craters. One is filled with dust, one is much larger and has a lake inside, with an active volcano in the middle of the lake. Very cool! I had come to Lombok for a surf camp (more on that later) but decided to squeeze in a trek up the volcano before it started. Indonesia was not on my original plan, and although it would've been possible to reach Lombok without flying by boat, I had completely run out of time so I indulged and flew in from Kuala Lumpur. After some research it became clear that you had to do the trek with a guide, mostly because you had to camp up the volcano. There were two main options, a two day trek or a three day trek. The two days saw you go up to the summit and then back down the same way. For the three days you went up to the summit then down to the crater lake, back up to the crater rim and then down a different way. I went for the three day option. The initial tour providers that came up on a google search were very expensive but I persevered and dived into google maps and found whatsapp numbers of local companies. From doing this I found one that was very affordable: £85 for 3 nights including all accommodation and food. The style of trekking was a new experience for me. Porters accompanied us carrying baskets filled with supplies. Despite the 25kg weight and the fact they were wearing flip flips, they still always beat us to each rest spot. They would set up camp for us, cook all of our meals, provide tea and coffee, and carry all of our water for the several days. Whilst it did make me feel uncomfortable at times, feeling like I wasn't carrying my own weight, it was really lovely to arrive after a long day of walking and be able to just lie down and relax, with the tent already up and dinner being cooked for us. I was also very impressed with the meals provided, always tasty and filling and with lots of components. No boil in a bag rice like on DofE!
The tour guy picked me up from the airport and I stayed in a homestay in a village near the volcano, getting up early the next morning to begin. Sitting in the back of a pick-up truck we collected the other members of our group: a french couple who were only doing two days, a british couple and a british/dutch guy (Tom), both in their early 20s. It seemed like a really nice group. We had to do a quick medical which was just taking blood pressure and then finally we began! The first day saw us hike for around 7 hours, including a long stop for lunch, up a continuous but fairly gradual incline. The path was out in the open so the main issue was the sun and just how hot it was. The british couple quickly fell behind and were struggling. The rest of us went on ahead after lunch and when we stopped and waited at the next rest point our guide caught up with us and informed us that they had turned back! I still don't really know what happened but it was quite odd. It was at this point that Tom and I realised we were in for a rather intimate hike, with it being just the two of us doing 3 days. Luckily we got on. It rained heavily for the last bit of walking and I realised I forgot to bring my rucksack rain cover, so I sacrificed myself and covered my bag with my raincoat. Luckily it was still hot! At around 5pm we reached our camping spot for the night, on the crater rim at 2650m above sea level and 1500m above our starting point. There were lots of tents along the ridge here. The walk up had been quite busy actually, and there had been a lot of rubbish. The clouds had covered us and we couldn't really see where we were. It was very cold and I put on all of the layers I had, sadly not many since my wardrobe has fully transitioned to hot climates now. Occasionally the clouds would break in an area and we would catch a glimpse of the summit, or the lake in the crater, or the island down below. Just in time for sunset, the clouds fell down into the valley and we were treated to my bucket list view - being above the clouds. It was breathtaking. I couldn't stop taking photos and just staring at all of the different angles. We had dinner whilst the last of the sun fell below the horizon. It got even colder and we all said our goodnights before getting into bed. I managed to wash my face a bit by having Tom pour water into my hands. It wasn't comfy and it wasn't warm. I didn't really sleep at all so it wasn't the worst thing in the world when we had to wake up at 1:30am. Tom said he also didn't sleep but I quietly disagreed with that as I'd been kept company by his snoring all night.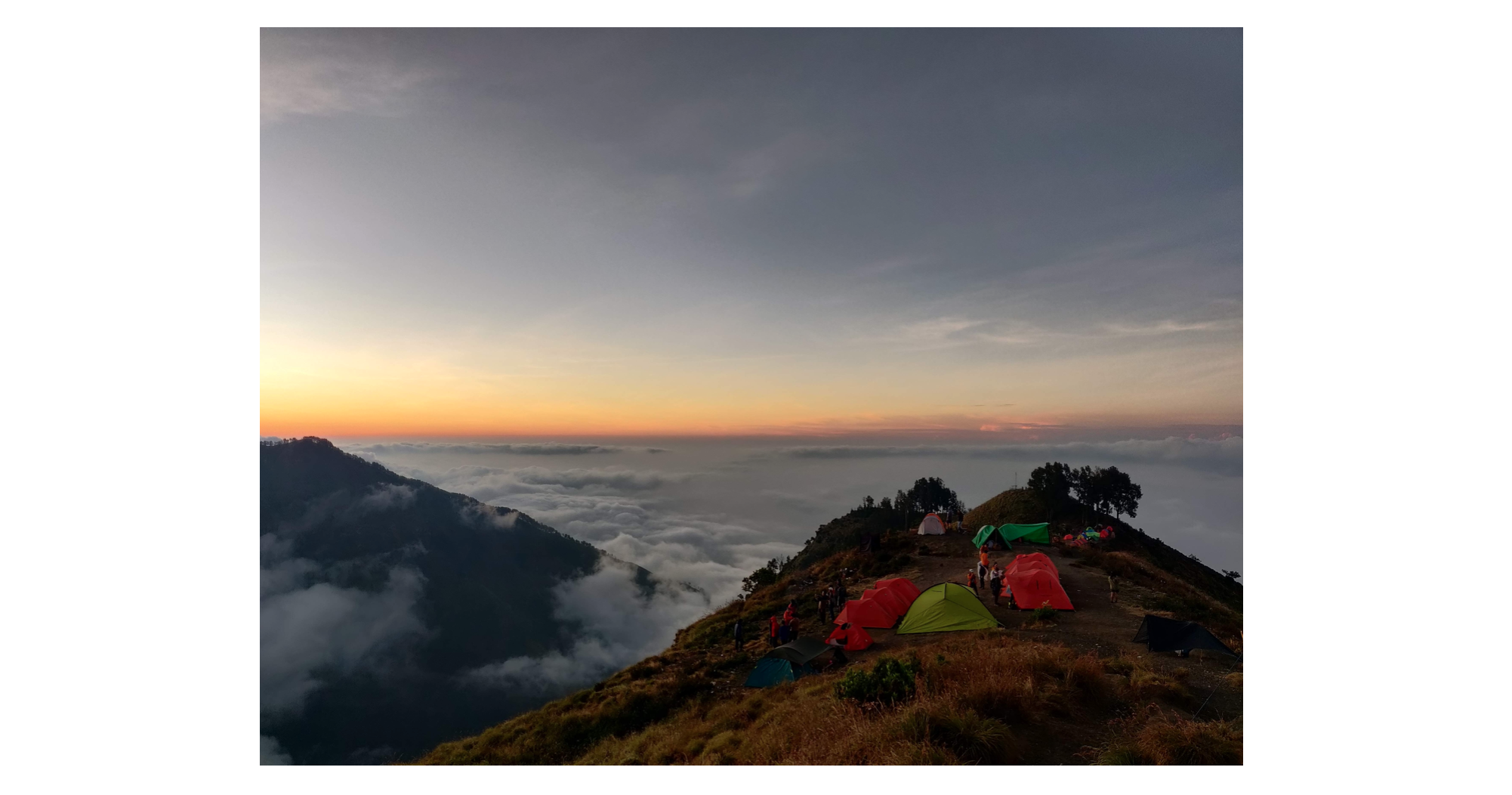 After a snack of crackers and coffee we started our ascent to the summit ready for sunrise. We set off at 2:15am, armed with headtorches, and it took us 3.5 hours. It was 1100m of elevation gain and it was incredibly steep. I found it harder than I expected! The last 1.5 hours were up a sandy slope and this is what made it so challenging. Each step up saw you slide down a few inches. It was impossible to find a rhythm or get into a groove with it, which made it mentally tough. After just a couple of steps I would stop exhausted, it was hard to force myself onwards again. Luckily it was still dark so I couldn't see how far there was to go! But suddenly I was at the summit and I was shocked that I had reached it already. After the obligatory summit photo I huddled down to wait for the sunrise. The cold hadn't been too bad whilst walking but it was freezing just sat waiting. Finally the sun came. It was really beautiful again, but I think more because of the view down to the two craters than the sunrise itself. As described earlier, the larger crater with a lake and active volcano inside was so cool to look into. The best bit was the shadow cast by the summit on the land below. After taking it all in, and taking lots of photos, we got ahead of the crowds and started our descent. While the sand made hiking up literal hell, it made going down and absolute dream. For the first time ever I actually enjoyed the descent, running down and sliding in the sand. The views were also incredible, of the whole island, into the crater, of the ridge we'd walked up blind. Looking back at the last bit before the summit I was doubly glad it was dark whilst walking up, it was so steep and so endless appearing.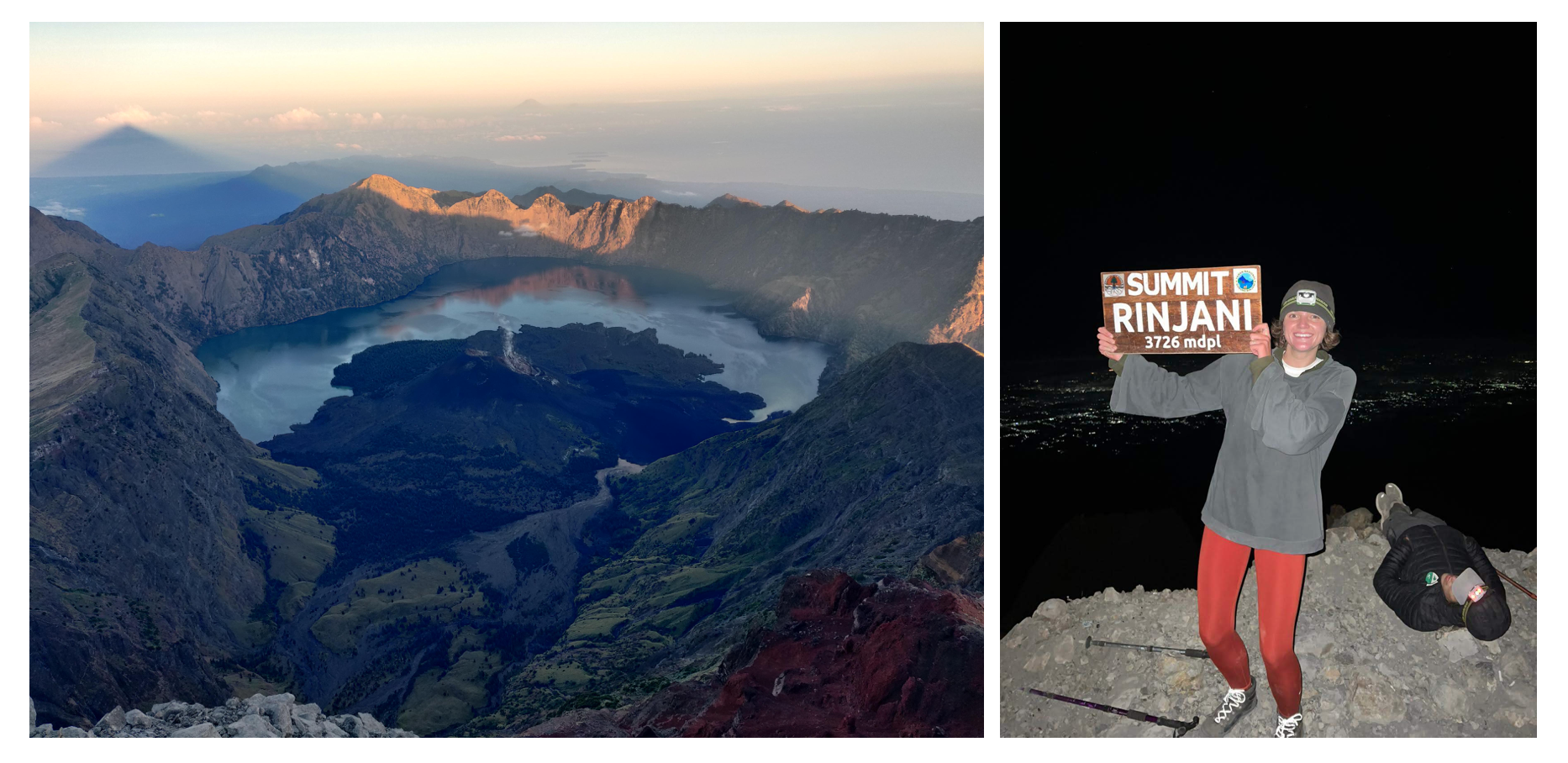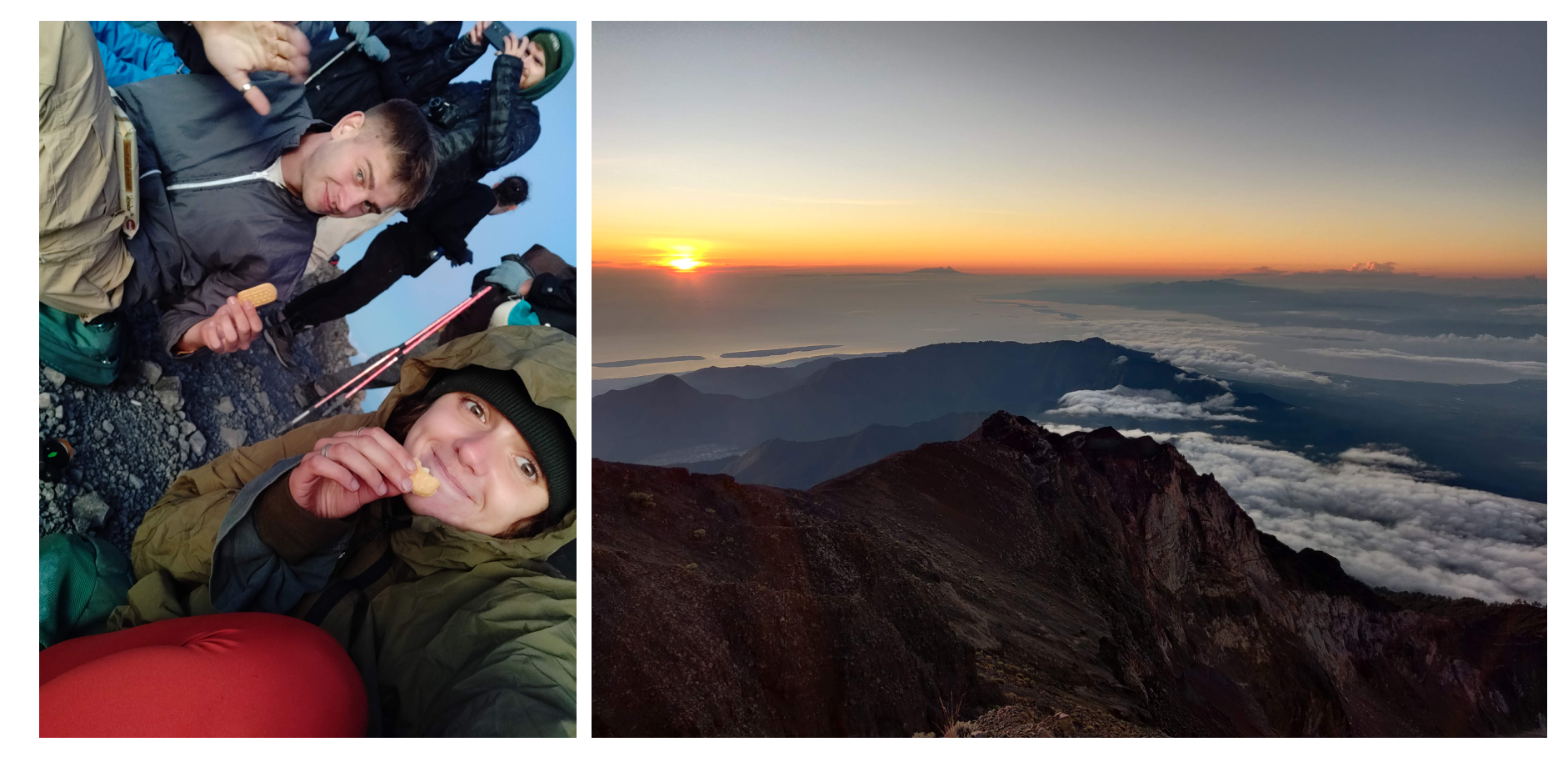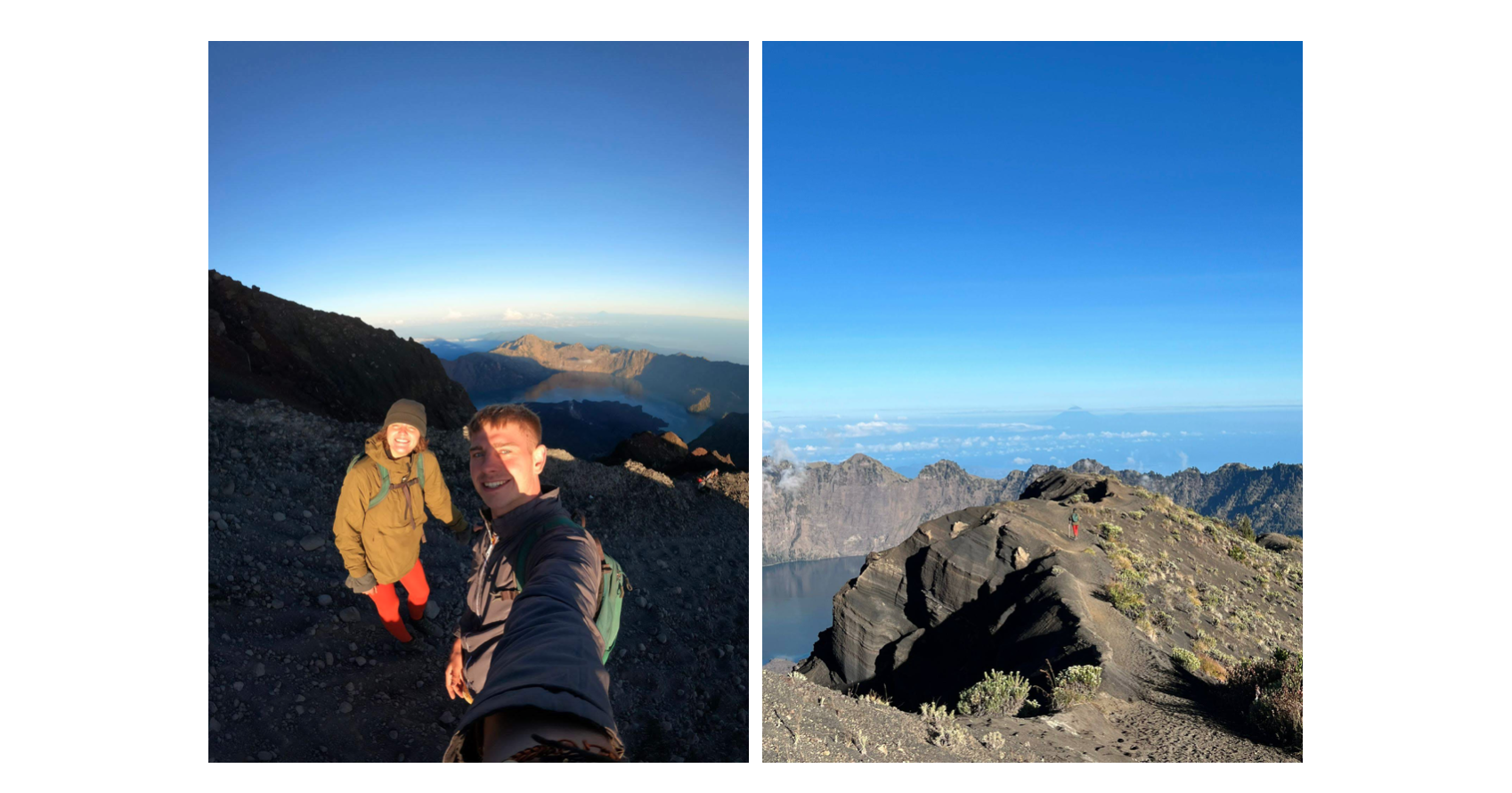 Back at camp we had breakfast and then Tom and I set off alone with our guide, down into the crater towards the lake. It took just under 3 hours and we were rewarded with a little gap in the cloud that filled the crater, revealing the volcano in front of us. There was a hot spring nearby so we found this and oh wow, sinking into the incredibly hot water with a view of the waterfall behind, our aching legs crying out in joy and the dust and sweat being washed off our bodies, just glorious. A local guy gave us some soap to use and we went to town. It was the best hot spring I've ever been in. Completely natural, just some larger stones placed to create pools in the river. The covering cloud broke and it poured with rain as we ate lunch. We sat in the emergency shelter that was by the lake but the insane number of flies eventually got too much for us to handle and we moved outside. Some local boys who were on a fishing trip invited us into their tent and we sheltered with them. They shared their fish curry with us, we shared our pineapple with them. They rolled us local cigarettes and we smoked together. Still raining, we set off on our ascent back up to the crater rim. This was a bit gruelling. Tired from being up at 1:30am, wet from the rain and the humidity, and legs a bit tired from the morning. But it actually went very quickly and we reached our second camping spot. This one was much quieter and we were treated to another glorious above the clouds sunset. Our neighbours had a campfire and we joined them around this, drinking the local alcohol and chatting. Another very cold and very uncomfortable night's sleep. This time Tom's snoring was accompanied by him sleep talking which was quite amusing.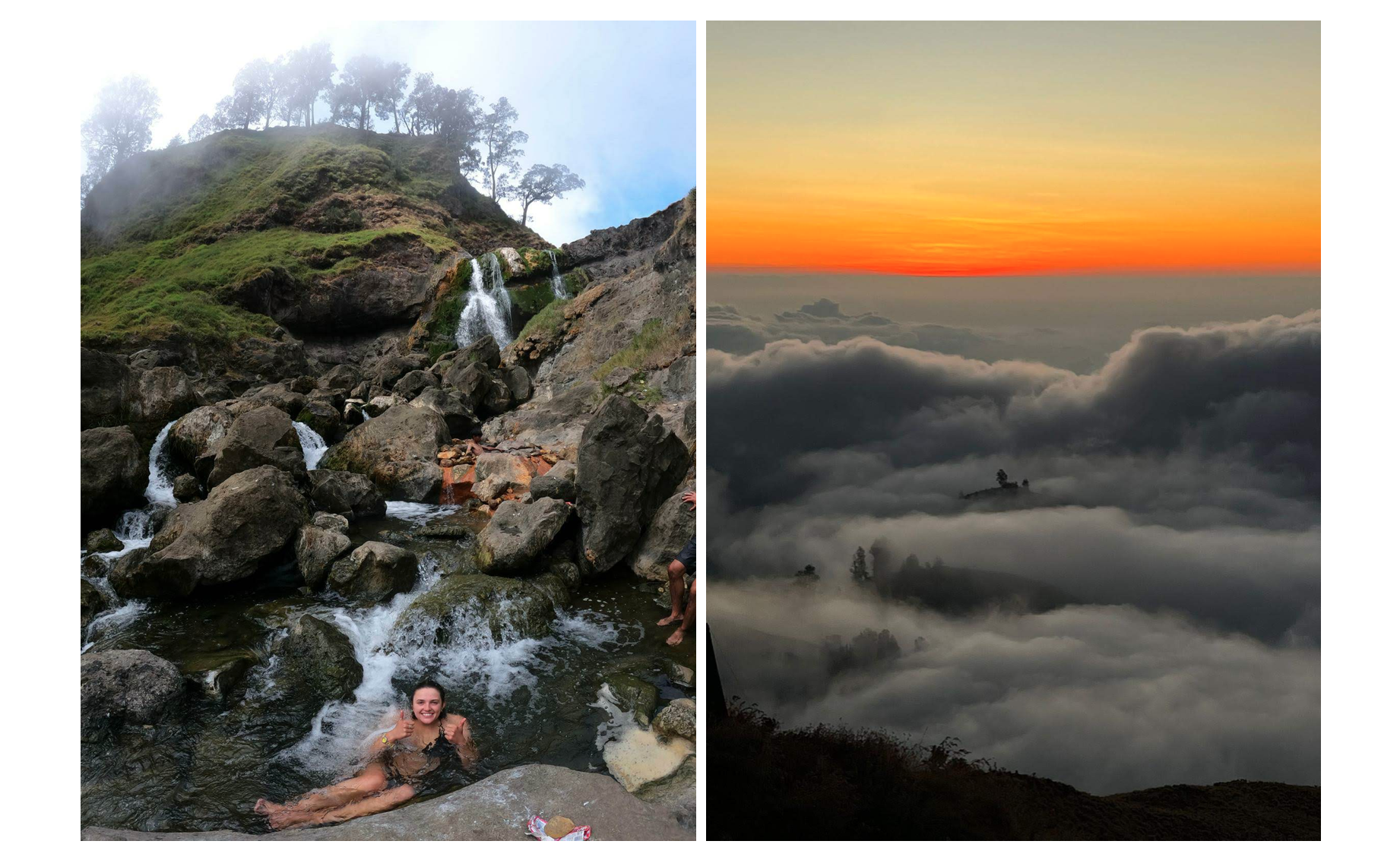 After an early breakfast we sped off downhill. The sun held for the morning but after lunch it absolutely poured again. I fell a few times, probably because I struggled to keep my eyes open from tiredness. Our guide also slipped over and Tom, rushing to help him, slipped in the same spot and crushed him. I failed at trying not to laugh. The guide wasn't very impressed but actually he seemed very unimpressed the entire time, he was in a big hurry to get back and didn't seem to enjoy the trek at all. His hurrying worked and we got to the bottom very quickly. Tom sat in the front of the truck and I sat in the back, something I wasn't super happy about when it started to rain heavily again and I got completely drenched! In the chaos of the rain and trying to shower and get my stuff to the taxi I managed to twist my ankle. I didn't think much of it until I couldn't do my usual trick of immediately falling asleep in the car because of the pain. When we had to switch cars I couldn't put any weight on it and struggled to walk. It had swollen up and I felt sick. Luckily it was just me and Tom in the car so I could elevate my foot on the seat and put the cold banana milk Tom bought for me on it as an ice pack. Through the pain and the concern about it stopping me from surfing, I did find it very funny that I managed to injure myself running to the taxi and not actually on the volcano. By the time we reached Kuta the swelling had stopped getting worse and I could walk on it carefully. It was back to normal by the first surf day and it didn't stop me at all!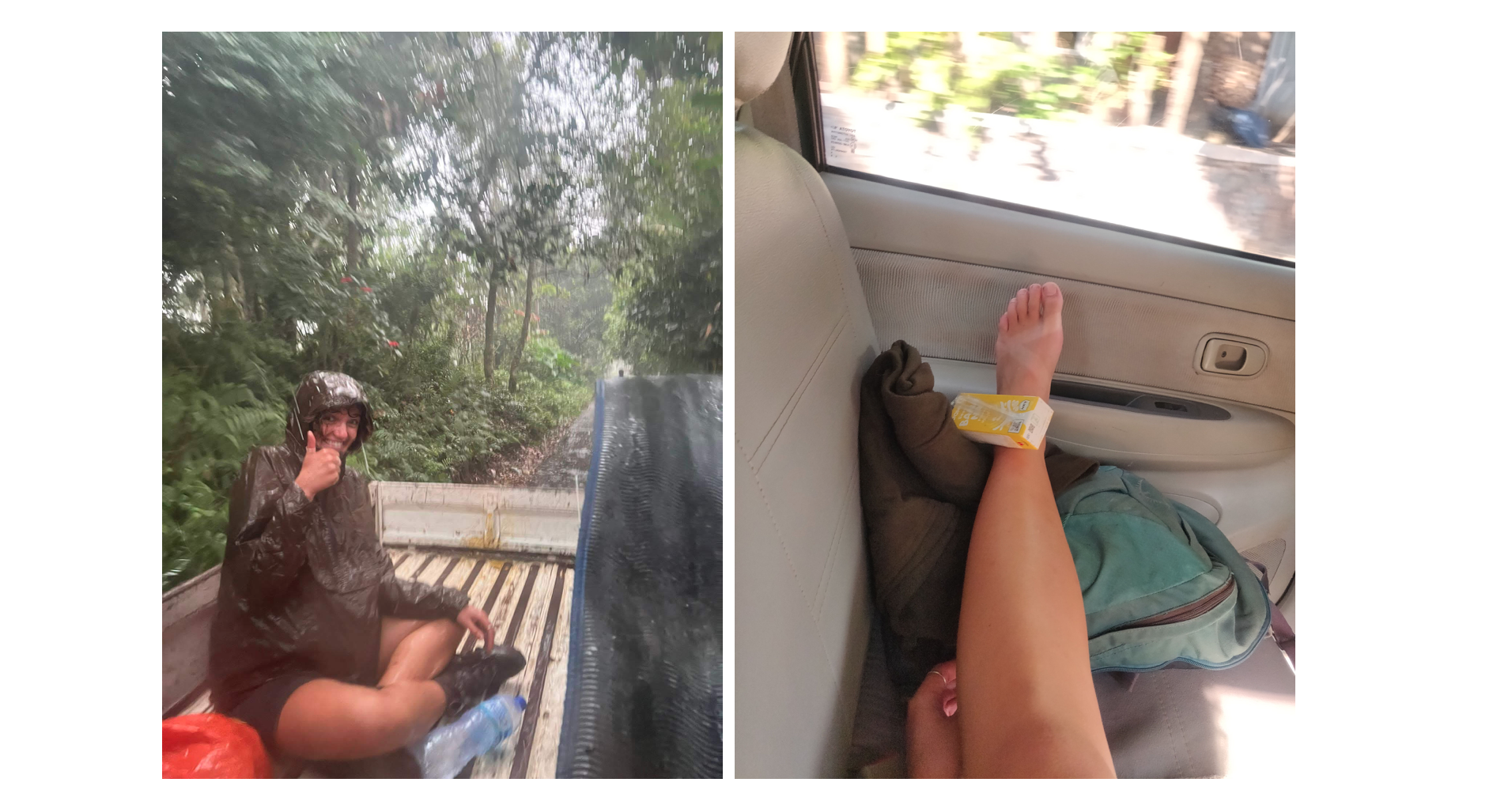 Overall, a surprisingly tough trek with gorgeous sunset and sunrise views above the clouds. The crater with its lake and active volcano was very cool to see. It was busy with people on the first day, but very quiet after that. There was a lot of litter on the first day, plastic and food scraps, but I was almost expecting it to be worse. The porter and guide system was a bit strange and it made me very glad I was able to hike in Nepal without them. Would definitely recommend Rinjani if you're in Lombok!